Andrikos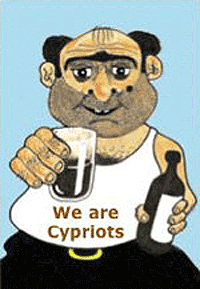 A is for amazing, he likes to think he is.
N is for the nights and days he's always at his biz.
D is for the drop or twelve of lovely Cyprus brandy.
R is for the razorblades, in shop he keeps them handy.
I is for the himmigrant, who cooks the English dish.
K is for his home Gibros, to see her free's his wish.
O is for obesity, a clever word for fat.
S for jumbo sausage, he's very proud of that!


In the late 1980s, the fish-frying phenomenon Andrikos, an early proponent of Cypriot Academy philosophy, burst onto the UK Cypriot scene. A spoof columnist in the English language section of Parkiaki, the UK Cypriot community newspaper, Andrikos affectionately poked fun at himself and thereby the attitudes and habits of first-generation Cypriots. Andrikos proved hugely popular with readers and a collection of his famous columns was published in book form in 1993.

In 2003, thanks to generous support from Bank of Cyprus UK, Andrikos was brought back, this time in a radio play for LGR, directed by and starring Peter Polycarpou.

Born on the island of love, Andrikos is a loud, proud fryer – over-worked, over-bearing, over here. All his family, quite reasonably, sense something fishy whenever Andrikos is home – but, as far as the old-fashioned Cypriot is concerned, there's only ever love in the air...

Love for his devoted wife Joanna, who has all she could wish for in their pristine suburban semi... all, that is, except a life of her own and some quality time with her husband.

Love for his daughter, the freedom-yearning hairdresser Maria, whom Andrikos is determined – whether she likes it or not – to see securely married off to the sensible accountant Spiros.

Love for the fun-loving Nigos, his college student son, who's expected to take advantage of all the opportunities Andrikos missed out on as a boy: a good education, better job prospects – and plenty of cash to spend, cars to crash and ladies to woo along the way.

Love for his younger son, the bright, sensitive, schoolboy Dagis, who's obliged to appreciate the old country's rich culture and tragic history and who may well be destined to inherit the old man's baffling philosophy and warped sense of humour.

Andrikos represents a heart-warming, fun-filled look at the UK Cypriot community, amply illustrating a culture-clash within a culture – older generation parents desperate to instil outdated, old-country values in reluctant children.

Bold, brash, bombastic, Andrikos is equally capable of displaying warmth, generosity and, above all, unconditional love for his family. It's a love that's reciprocated. Determined to enjoy the freedom that north London life has to offer, Andrikos's children also want to keep the old man happy. But can it be done?
The poems of Andrikos and family
© Cypriot Academy